The all new inlet grille with a sense of engraving displays an explosive sports potential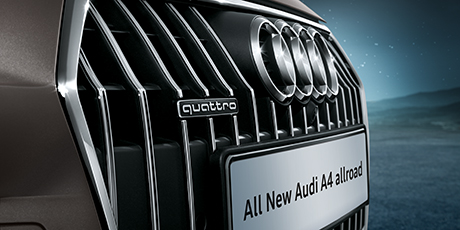 All new Audi A4 allroad quattro's streamlined waistline captures numerous stunning eyes, and the all new hexagonal radiator metal grille with chrome-plated bars is mounted on an arc-shaped front hatch having double-ribbed lines. The visual impact, seeming very natural, sketches out the strong sports smell of the all new Audi A4 allroad quattro for you.
A sharp, sports body design highlights a natural unique charm
Every detail of the all new Audi A4 allroad quattro is crafted extremely delicately. Its streamlined waistline circles the whole body along the edge of the body. The curved front hatch with the double-ribbed line design is equipped with an all new hexagonal inlet grille having a sense of engraving, making the all new Audi A4 allroad quattro look more sports and fashionable. In addition, the eye-catching tail line and the allroad family's exclusive body bottom design bring you a more stunning off-road driving experience.
Exquisite interior layout perfectly echoes the aesthetic design with practical performances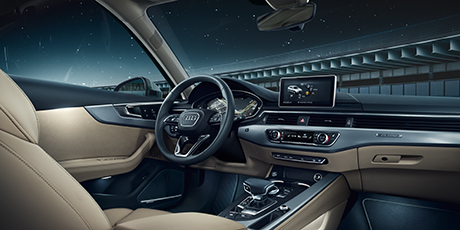 All new Audi A4 allroad quattro is made with high-grade materials and excellent craftsmanship. Its wide interior space creates a luxurious, comfortable feel for the entire cabin. The atmosphere lights have a variety of colors, creating a comfortable, cozy atmosphere inside the car. At the same time, the car is also equipped with sports seats, which can provide you with perfect horizontal support, and the B&O 3D stereo system installed in the car can bring a unique audio-visual feast for you. In addition, the driver can also get direct access to massive information through a 12.3-inch large screen installed inside the car.