New generation of MMI navigation system offers more intelligent driving experiences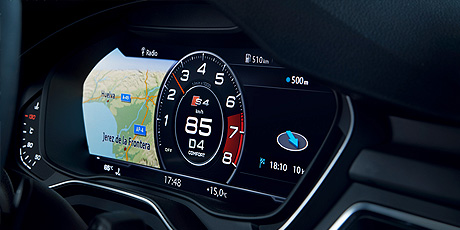 Three operation modes are made available to drivers by MMI: voice command, the new multi-functional steering wheel, and the terminal on the center console. With the top grade infotainment system, an Internetconnection can be established rapidly by using LTE protocol. The integrated Wi-Fi hotspot function allows the passengers to freely browse and send emails on a mobile device, while the driver may get access to online services via Audi connect combination.
Multiple driving assistance systems are in place for your best protection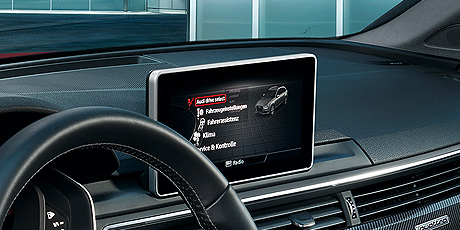 Once in an Audi S4, you can find multiple driving assistance systems at your service. In due time, the efficiency prediction aid advises the driver on gear changes for fuel savings. The active Audi track maintenance system helps keep the car on the right track all the time. Stop & Go, the adaptive cruise control system that has incorporated traffic jam assistance function, enables acceleration, deceleration, and steering at a speed up to 65km per hour, easing the pressure of the driver during slow driving. Other important safety features include parking aid system, rear cross traffic aid, exit warning, evasion aid, steering aid, and Audi danger sensing & alarming system. The camera-based traffic sign identification system also provides comprehensive services.