Exclusive wheel design creates a unique and extraordinary fashion temperament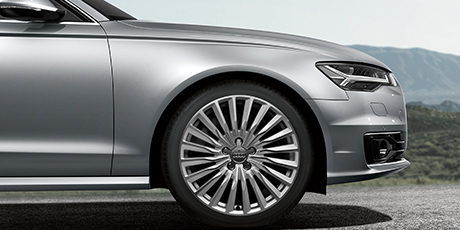 The Audi A6L e-tron is equipped with dedicated 18" cast aluminum wheels. The wheels combine both an exquisite craft design with a sophisticated shape design, showing a fashion temperament anytime. No matter whether you drive the car to pass through rugged mountain roads or city roads, its wheels will certainly attract admiring eyes.
Elegant interiors make each of your sensory organs issue a sincere admiration
No matter what you require to Audi, no matter whether it is sport, comfort, design or function, we can provide you with a wealth of custom options. In the carefully crafted elegant interiors of the car, distinguished details can be seen everywhere from delicate accessories to rich interior colors and then to the extraordinary high-level leather. The exquisite quality of every place in the car make each of your sensory organs issue a heartfelt admiration.