Elegant, fashionable exterior design always inspires the desire to drive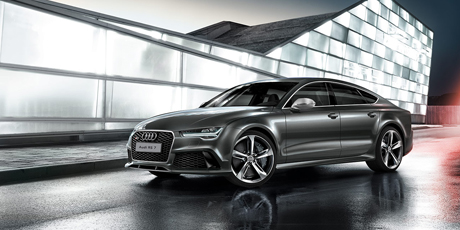 The sporty, elegant and fashionable appearance of the Audi RS7 Sportback Performance can vividly represent your most real self. The all-new LED headlight as the standard equipment of the model can reduce the occurrence of glares in bad sight condition (in foggy, rainy or snowy days). The RS7 specialized bumper and the wide single frame griller installed in the model show the innate sports nature of the model. At the same time, you can also optionally install matrix LED headlights (RS specialized), a carbon styling package and a matte aluminum styling package in your car to highlight your unique sports style at any time.
Concise air-inlet grille reveals the most distinct nature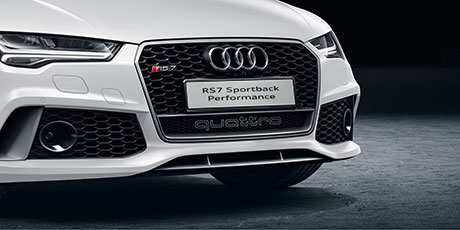 Audi RS7 Sportback Performance adopts RS bumper integrated with wide air-inlet grille on both sides, to match black high-gloss honeycomb grille and lower air inlet, making RS7 front face aggressive and indicating distinct sports nature.
The interior design is full of personality style, enabling your senses to witness the superb crafts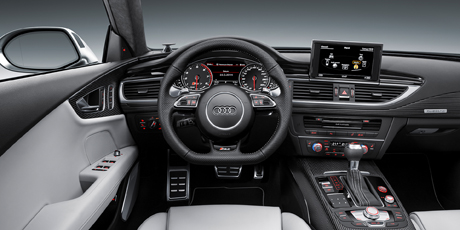 The interior design of the Audi RS7 Sportback Performance is full of personality style, highlighting the excellent quality of Audi. The exquisite detail design brings you a leisured life and enables you to have an extremely joyful driving experience.
The interior design with sports features shows an extraordinary personality style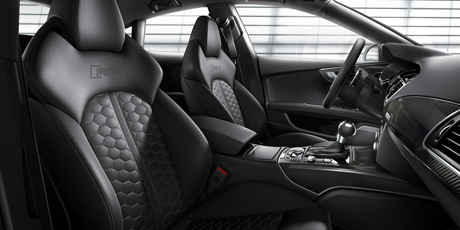 The interior design of the Audi RS7 Sportback Performance is full of personality style. The textured chrome air outlet, the geometry button and the Start-Stop red ring make the interior of the car carry a sporty style. In addition, the eye-catching quattro label and the RS specialized knob red decoration always show the inherent sports nature of the car.
Interior space displays innate sports nature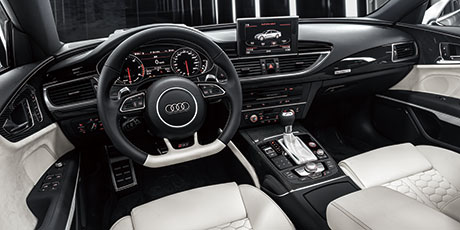 Interior design of Audi RS7 Sportback Performance highlights Audi's extraordinary superb quality. When you open the door, the superb material and exquisite craft of the cabin tell you: all of them will belong to you; scuff plates in door apertures with transparent illumination, aluminium pedals, delicate handle and carbon fibre inlays, all of which reveal the nature of luxury. Unique Alabaster White full leather seat presents Audi RS7's inherent sports nature from time to time.