Front end design carrying over classic Audi hallmark
The front end design of the Audi A8L W12 carries over classic Audi hallmark, with a single-frame radiator grill telling its unmistakable identify even from afar. As a flagship model, the radiator grille of the all-new Audi A8L W12 highlights its uniqueness – completely designed, with double-strut chrome trims arranged horizontally and decorated with a sparkling W12 logo. Behind the chrome trims is a mesh ornament woven with delicate metal wires, which adds to the three-dimensional effects of the radiator grille and make the whole front end more noble and dignified.
"Wrap-around" concept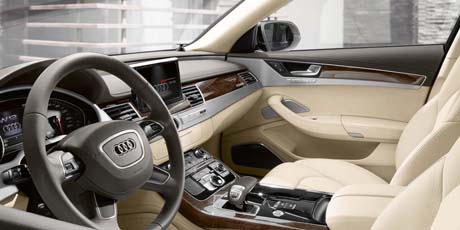 Audi A8L's elegant and refined interior design style conforms to the typical Audi design philosophy. One of its most striking traits is the wrap-around concept, which stows the instrument panel in an elegant curve. The tidy styling of front instrument panel is like a placid wave.
Two-piece panoramic sunroof, embrace the nature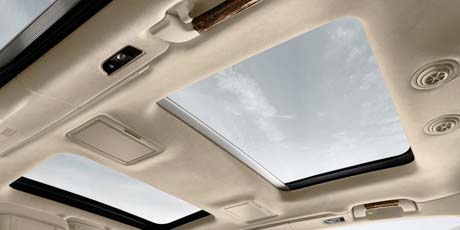 The sunroof uses a single colored safety glass which is equipped with sun pad with step less adjustment, it can be closed via the remote control from outside the vehicle. When the car is parked, the solar cells on the roof will provide electricity to produce continuous flow of air to reduce the temperature in the car, allowing you to travel in refreshing.