8-speed Tiptronic automatic/manual transmission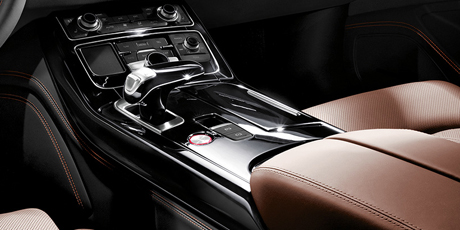 The 8-speed Tiptronic automatic/manual transmission has the Dynamic Shift Program (DSP) and sports program, which makes the gear-shifting fast and smooth. It not only increases the driving dynamics, but also keeps high-level comfort and low noise.
Dynamic steering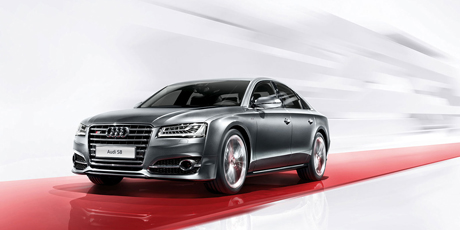 At high speeds, the Audi dynamic steering system adopts indirect steering transmission, so that the vehicle performs steadily, and keeps a better linear running stability. On the contrary, if the vehicle runs on roads with curves at medium and low speeds, the system will use a more direct steering ratio to improve the steering accuracy and agility. During parking, the steering system adopts a direct steering ratio, which makes the parking easier. The dynamic steering function is only used with the Audi drive select.
Audi drive select® , free switching of drive styles
The Audi S8 is equipped with the Audi drive select®. It can get the most suitable drive style through self-regulation under different road conditions and needs. Four modes are preset: Comfort, Auto, Dynamic, Efficiency. The Comfort mode provides comfortable and relaxed driving feel for long journeys and bad roads. The Auto mode provides good balance with both comfort and agility. The Dynamic mode provides a more dynamic driving experience. The Efficiency mode provides an efficient and economic drive mode. An individual mode is also available. The driver can adjust the driving personality according to his will to satisfy the needs of driving.