Singleframe, reveals the true elegance
The newly designed S8 Singleframe in platinum grey with dual struts in chrome and S8 emblem defines the sporty front end. The dynamic chrome-plated twin pillars front face equipped with full LED headlights, together with the side air intakes in S look in high-gloss black and equipped with a transverse brace in aluminum look, every detail has been perfectly designed with a unique style .
Aluminum exterior mirrors perfectly integrate with the streamlined body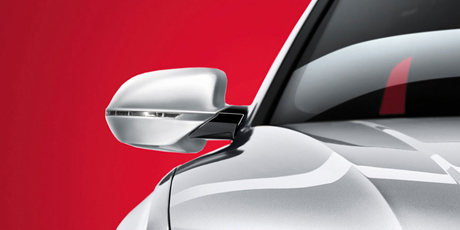 Audi S8 is equipped with the aluminium-look exterior mirrors, which perfectly match the appearance of the classy athlete, forming another charming highlights for the Audi S8.
Smooth side lines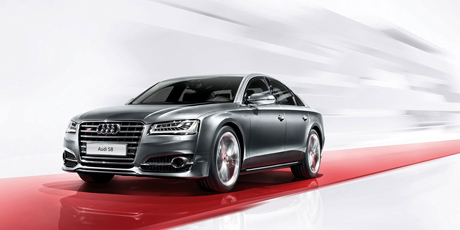 The body side of the Audi S8 is also attractive. The door handles with aluminum strips, the unique body-colored window trims, the individual V8T logos on the wings, the S-specific 20-inch wheels (21-inch wheels are optional), and the black brake caliper with the S8 emblem (ceramic brake discs are optional) all give a unique charm to the Audi S8.
Delicate rear design
With the dynamic overall design style, the rear lines of the Audi S8 are clean and neat, no trace of redundancy. The Dual-branch twin tailpipes in chrome look and the diffuser insert in aluminium look/platinum grey at the rear round off this vehicle in a striking manner. The LED headlamps and taillights add a ray of light to the city's night sky, and let your night-time travel more safe. The sophisticated tail design also adds an unforgettable finishing touch to the Audi S8.
Welcome pedal with S8 emblems, the unique identity imprint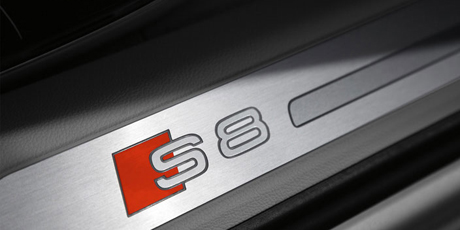 Open the door, the Audi S8 welcomes you with a pedal with personalized logo, the unique identity had not been apparent since the display, you will fall in love with it at the first sight. At the same time, the pedal is equipped with a lighting function to provide more personalized experience for the occupants.
Instrument cluster indicates the supremely explosive power
The Audi S-specific grey dials, white needles and S8 logo in the rev counter, very sporty and with supremely explosive power. Meanwhile S8 logo engraved on the tachometer, always reveal an extraordinary personality.
High-quality inlays, let you ride with brand new comfort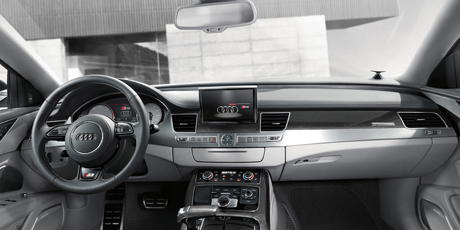 The Audi S8 dashboard and aluminum selector lever dotted with carbon Atlas lend an exclusive touch of quality and sporty design to the interior. Every detail exudes a rich flavor of sporty, all the elements whisper a message to you - in the S8 world, you will have a ride with a dynamic and comfort experience.