Audi drive select®: carefree driving experience despite road conditions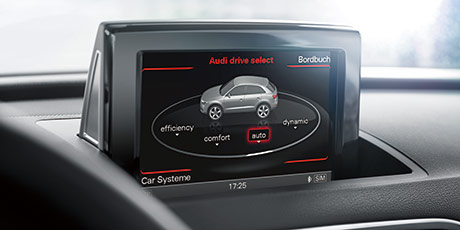 Audi drive select® of new Audi Q3 can respond to your demands and change driving performance. The system has four driving modes including comfort, sport, auto and economy. Comfort mode is mainly intended to achieve as comfortable driving experience as possible for your long-distance driving. Auto mode proves tougher on the basis of Comfort mode. Sport mode is designed especially for sporty driving. Economy mode is prepared mainly for improving energy efficiency with the economical operation mode as its purpose. You can change your driving performance according to your personal preference and driving habits so that you can enjoy a carefree driving experience despite road conditions.
Audi quattro® permanent all-wheel-drive system: interpretation of the urban flexible way of driving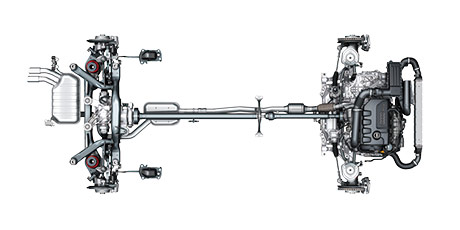 quattro® is a unique permanent all-wheel-drive drive system of Audi. In the driving process, before a wheel of one drive axle slips due to the loss of adhesion, the driving force can be transmitted from central differential to another drive axle. quattro® permanent all-wheel-drive system can provide new Audi Q3 with stronger traction during acceleration and increase performance and safety through its outstanding grip.
Parking aid at front and rear with selective display: more options for your driving safety
Parking aid at front and rear, audio-visual signals and car-rear scenes of new Audi Q3 will be displayed on MMI® display. When the audio signal simulates the distance between car and obstacles, the front and rear radars on bumpers will serve as a detector through ultrasonic sensor. When the reversing radar on the rear bumper detects the distance between your car and obstacles and issues the sound signals, you will experience a safer and easier parking process.
High-grade automatic air conditioning: a more comfortable and enjoyable atmosphere
Automatic air conditioning of new Audi Q3 can regulate temperature automatically in response to the change of sunlight. Moreover, you can preset the temperature along the driver and passenger side to enjoy comfortable interior atmosphere. This system is an automatic circulation model based on air quality mentoring module. It can conduct the electronic control of temperature, air flow and wind distribution. The rear diffuser at the back of center armrest can create a comfortable temperature for passengers in rear seat.
Comfortable key: smooth driving experience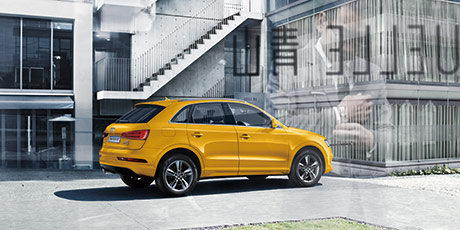 Comfortable key of Audi Q3 integrates the access of entering and driving permission system. With a key, you can start or stop engine directly by pressing the start/stop button to begin your pleasant trip in new Audi Q3.
BOSE surround sound: wonderful melody is always with you
BOSE surround sound of Audi Q3 can present an unusual musical experience for drivers. Fourteen high-power loud speakers, including subwoofer and center loudspeaker, will turn this car into a mobile jukebox with surround sound effect; ten channels have a total output of 465W with natural sound and sense of space. Besides, the rear projected LED lights are used to create floating effects of loudspeakers at front door trim. This can be regarded as a visual banquet.