Individual front design, breathtaking at the first sight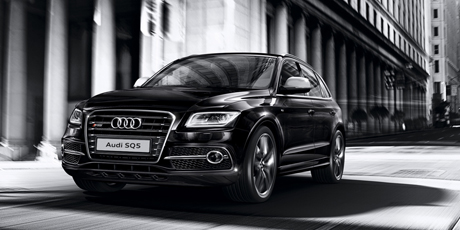 The dynamic front design delivers irresistible charm of sportiness. The SQ5 emblems embedded on horizontal double chrome struts and grille, the front bumper of the S line package as well as the V6 T emblem on the fender fully reflect the identity of a sports model.
Rear design, steady and tremendous
The dynamic elements of the rear design aren't inferior to the front. The LED taillights adopt the latest LED lighting technology of Audi. The even light strip not only is full of the sense of technology, and the excellent visibility also provides clear warnings to cars behind, ensuring driving safety at night. The SQ5 emblem in the rear, the dual-branch tailpipes, the S line rear spoiler and the S line bumper outstand the sportiness of the car, making it unforgettable.
LED daytime running lights, a pair of eyes for the roads ahead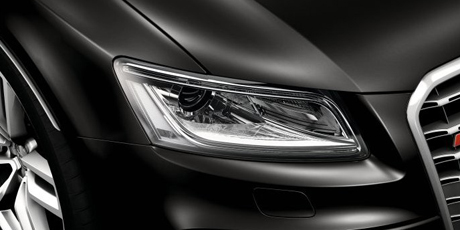 As the leader of the LED lighting technology, the Audi SQ5 is equipped with the strengthened xenon plus headlights with LED daytime running lights. The ingenious shape and light strip design reflect your remarkable tolerance. The xenon plus headlights help you see everything at night. You can feel relieved to drive alone at night.
The ultimate sporty interior design triggers driver's desire to drive it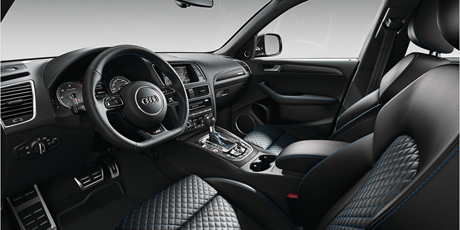 The interior elements show the inherent sportiness of the S models. The leather-covered multifunctional sport steering wheel in 3-spoke design with shift paddles is embedded with the SQ5 emblem, arousing your aspiration for driving. The instrument cluster has an S-specific design: grey dials, white needles and needle hubs in aluminum look contribute to the sportiness of the car. Inlays in classic matt brushed aluminum are full of the texture of metal. The Nappa leather seats not only provide unparalleled comfort, but also improve lateral support. Every detail aims to present the excellence of the Audi S family.
Leather-covered multifunctional sport steering wheel with shift paddles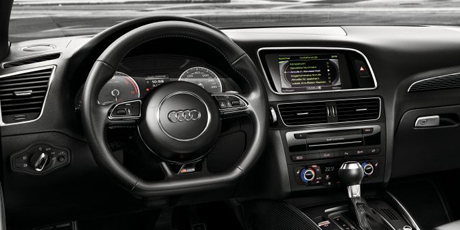 The leather-covered multifunctional sport steering wheel with shift paddles has colored stitching and the SQ5 emblem. The shift paddles, peddles and footrest are all made of high-end aluminum materials, showing the sportiness in details. You can change gear easily even if your hands are on the steering wheel.
Spacious trunk opens more possibilities for your journey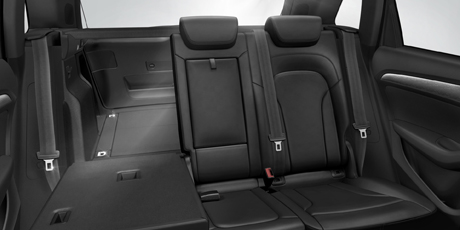 Audi SQ5 triggers your desire for travelling. As you wish, Audi SQ5 not only delivers an off-road sporty appearance, but has wide interior space. It provides more possibilities for sports and entertainment devices while making passengers comfortable. You only need to fold down the rear seats to expand the interior space. Thanks to the partition design, you can arrange different space combinations and enjoy freedom even if you have a lot of luggage.