Laser headlight reveals clear field of vision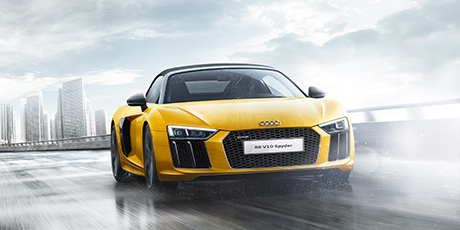 Audi R8 V10 Spyder is equipped laser headlight with optional lighting distance twice as common LED headlight, thus providing the best visibility in dark environment, to allow the driver deal with the road ahead with clear vision and calm attitude.
Flexible foldable soft top enables low gravity and low turbulence of vehicle
Audi R8 V10 Spyder's folded roof weighs just 44 kg, which plays an important role in realizing low-gravity structure for this type of high-performance roadster. When the speed is no more than 50 km/h, the electric hydraulic driving device can complete the opening and closing of the roof in just 20 seconds. The rear window is embedded in the partition which can be electrically lifted. When all the windows are closed, the airflow could flow through R8 V10 Spyder with the lowest turbulent flow.