LED headlights create more brilliant darkness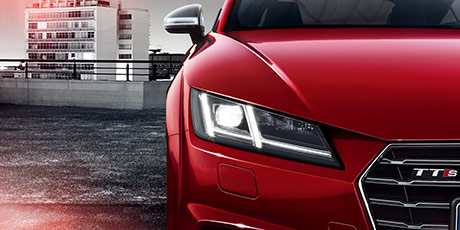 As a thrilling and impressive model, the outstanding LED headlights of All New Audi TTS Coupé, like pearls in the darkness, can lighten up dark night instantly. Its unique body shape and light band highlight your unusual quality so that you can enjoy a carefree driving experience in dark night.
Multifunction sports steering wheel, helps you drive in a carefree and comfortable way
The "S" emblem sports steering wheel of All New Audi TTS Coupé is protected by Audi exclusive leather, so grace and sportiness are perfectly blended. The three-spoke multi-functional steering wheel with paddle shift can guarantee your driving comfort and your ready access to driving information.